Hitachi Aqua-Tech Standardised RO Desalination Systems are high quality, reliable and energy efficient.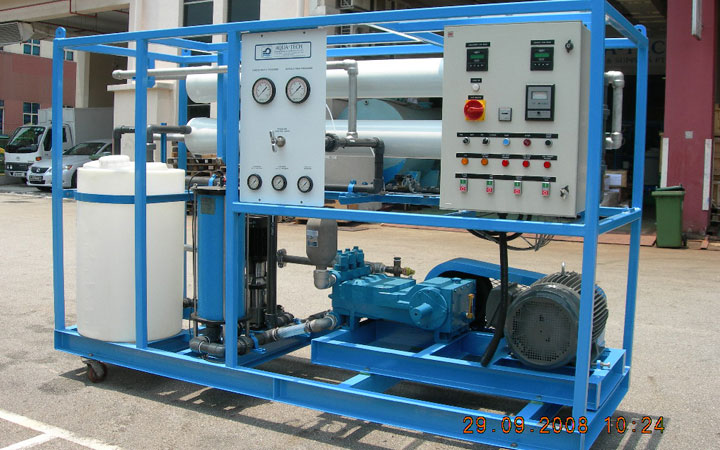 Overview
Hitachi Aqua-Tech is a world leader in Reverse Osmosis (RO) Desalination systems or watermakers with proven track records. Our watermakers utilise high performance membranes and pumps to produce fresh water from seawater source.
Process Diagrams
In Sea Water RO systems, pressure is applied to the sea water, forcing fresh water through a semi-permeable membrane while most salts, bacteria, colloids and other impurities are rejected by the membrane.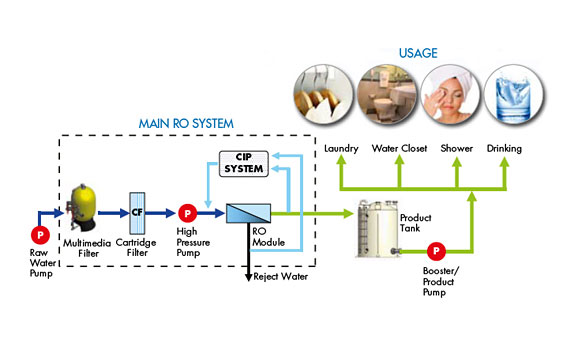 Features & Benefits
General Features and Benefits
Fast delivery with strong in-house fabrication capability
High reliability with excellent service support
Fail safe unattended operation
High quality product water
Standard Series
Customised design to fit into existing vessel
Compact and flexible modular units
Built-in cleaning and flushing system in main skid
Module disinfectant dosing system
Energy Saving Series
Energy and cost efficient with energy recovery device
Control panels with PLC for easy control (for PX series)
Designed for ease of shipping
Minimum site works required
Typical Specifications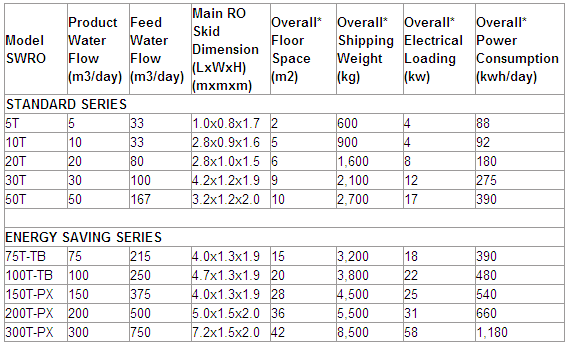 *Overall system includes main RO system which comes with Pre-treatment, Post-treatment and CIP system. TB refers to Turbocharger, PX refers to Pressure Exchanger.